Yksityiskohtainen asiantuntija-arvio
Password Boss Features
Password Boss is a feature-filled manager full of traits that anyone—a software expert or the average user—can take advantage of. Not many of them are standout, unique features, but something like the dark web scanner are solid ones that make this password manager worth your time. It's kind of similar to F-Secure Key's breach alerts feature, only you have to manually activate this one.
Dark Web Scanner
The dark web is a dangerous online space where users buy and sell passwords and other information. There are tons of ways your information can appear there, usually via an info breach from a big company like Facebook. Password Boss has a scanner that lets you know if any of your information is on the dark web, ensuring you can adjust anything affected.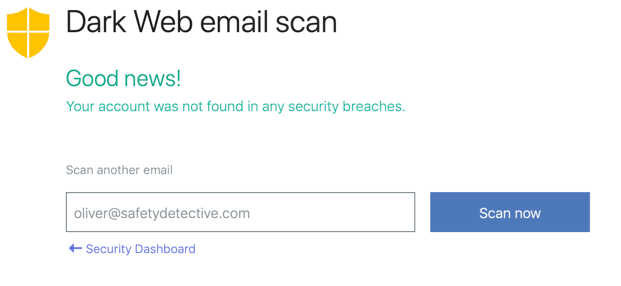 Security Dashboard
The security dashboard examines all of your passwords and assigns your overall security a score based on what it finds. It factors in which keywords are weak, which are duplicates, which are old or compromised and more. The screen also shows which passwords are compromised by the dark web, and can even scan your leaked emails as well.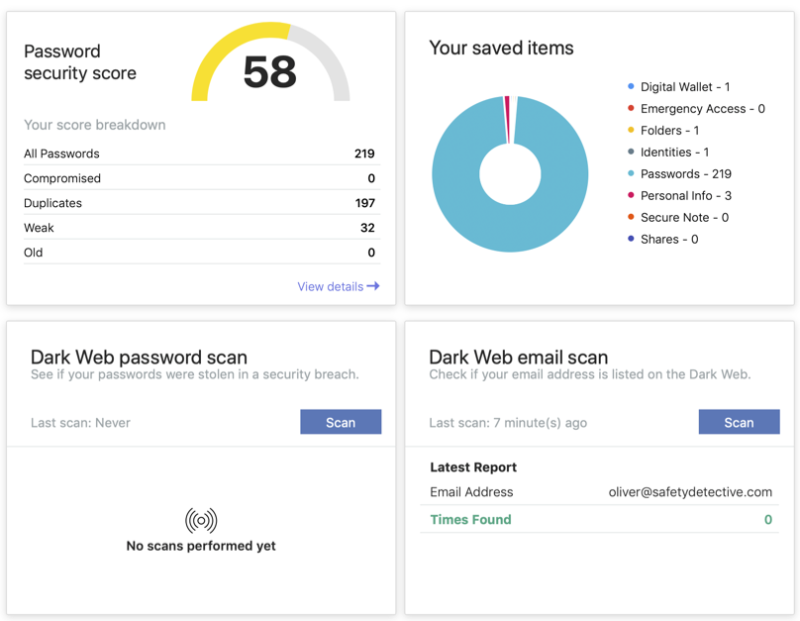 Cloud Backup
Password Boss features a cloud backup section that ensures your information is accessible in case you lose your device. On this page, you can pick which server the data is stored on, which is then encrypted of course. You can also choose to disable this option, ensuring that your data remains only on your device. But, it's nice to know you can access the info from any space if enabled.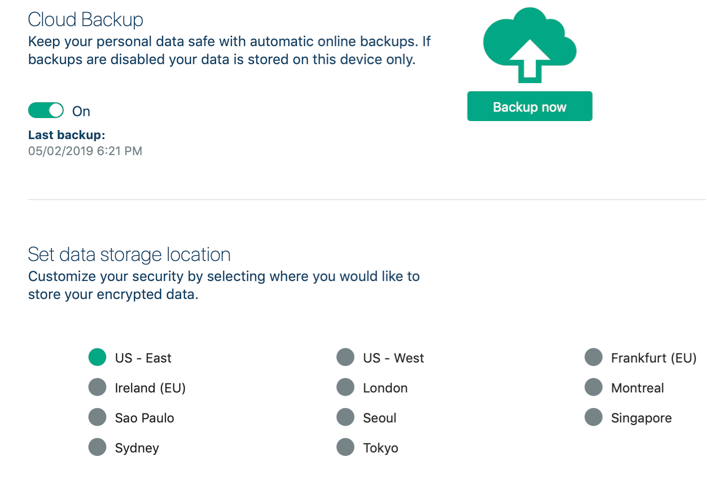 Emergency Access
The platform also contains emergency features, not unlike 1Password's Emergency Kit. With this section, anyone can share access with a delegated emergency contact via their email address. Once established, these contacts can request access to your account at any time. However, they'll only be able to do so for a limited time frame that you can set. It's great if you lose your device and need a trusted friend to pull the password manager contents from another machine.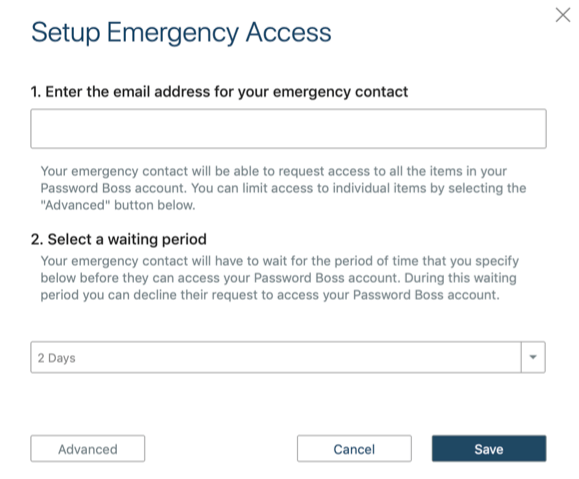 Password Boss Plans and Pricing
Password Boss plans are cheaper than many of the competitors, including LastPass or RoboForm. There are two tiers—personal and business.
The personal tier offers a Free, Premium or Family plan. However, one should note that the Free plan is only a 30-day trial, and comes with all of the features on the Premium plan. But, for how cheap the Premium plan is, you're getting a ton of useful features like unlimited password storage and devices.
The Family plan offers everything that Premium does, but for up to five people.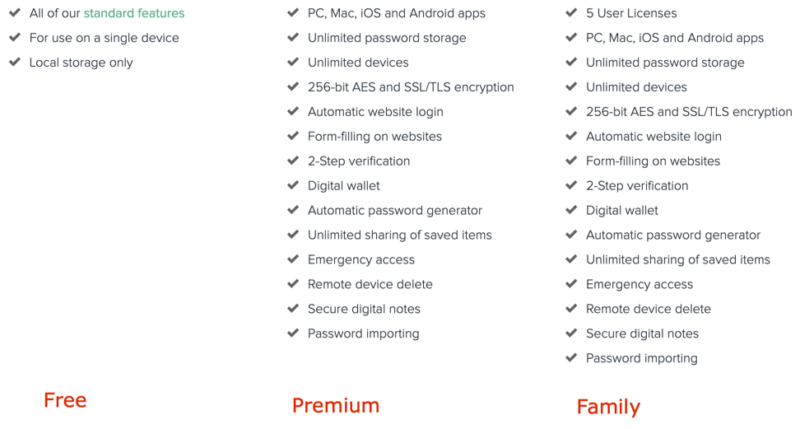 Then, you have the Business tier. This is broken into Standard and Advanced plans. Of course, the Standard plan comes with all of the features in the Premium plan, only with extra segments for team management. Then, the Advanced plan brings in more security policies, extra account reports and some audit logs, among a few other things.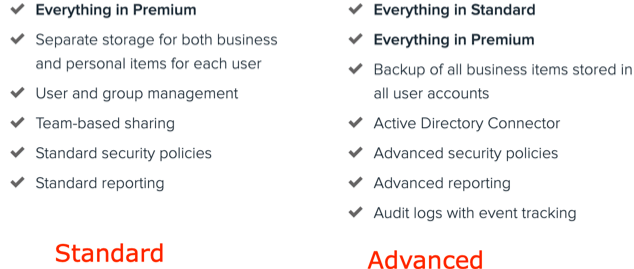 Overall, each of these offerings is great. Every plan adds something substantial, and they're a reasonable price. There are enough plans so users can get whatever features they'd like, too. Plus, the free trial ensures anyone can try out the Premium version of the software for 30 days—a nice plus.
Password Boss Password Manager Ease of Use and Setup
Password Boss provides a solid tutorial right when you open the password manager for the first time. From here, it tells you that you can import passwords whenever you'd like and how to do so, among other things to get you started.
Then, before you've imported anything, the software provides a set of common passwords to input right on the front page. It's a great extra touch that can spark the initial process before getting involved.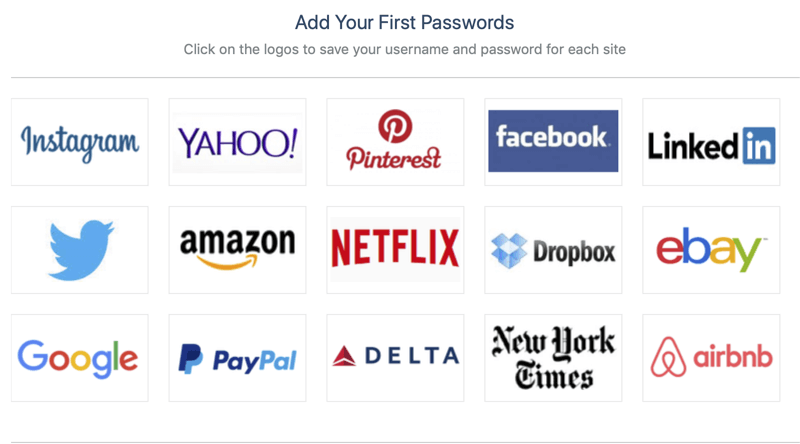 Of course, you can import your own set of passwords as well. The application supports imports from competitors like 1Password, Dashlane, LastPass and more. Or, you can choose a CSV file from any other password manager to bring in.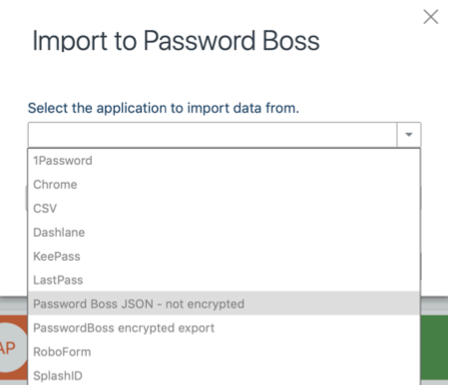 From here, the user experience is similar to that of 1Password, in that most of its features are on the left side of the manager and easily accessible. There are multiple tabs, each containing a different form of record keeping.
The forms are divided between passwords, identity, secure notes and a digital wallet specifically for financials. They're similar offerings to RoboForm, however, Password Boss's forms aren't as customizable as that competitor's. However, you can add little notes to each of your forms, and different categories include extra features, like a secure browser or auto-logins.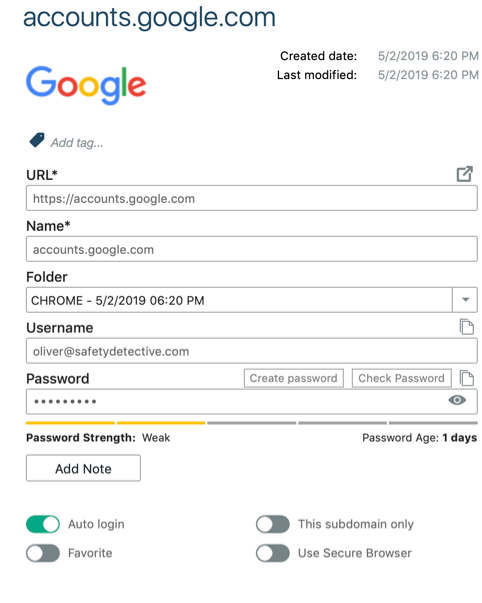 Then, there's a share center and a space for documenting emergency contacts. The former ensures that you can share passwords with other Password Boss users that you trust. The customization menu lets you choose a name, the recipients and if they can even see the password or change it if they'd like. Of course, you can also choose how long the recipients will have access to these shared items.
As for the emergency contacts, the process is similar, as was explained in the Features section.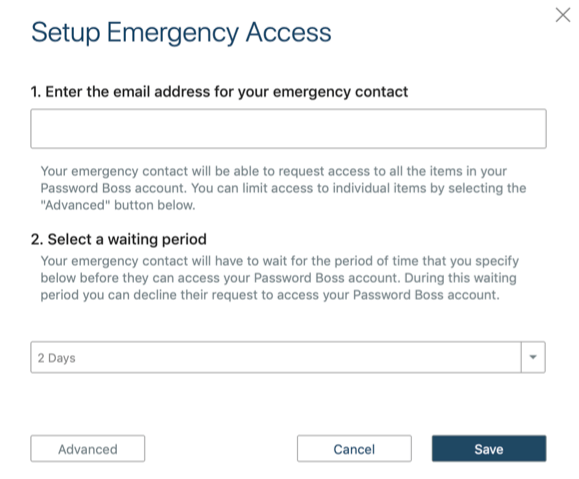 Then we come to the Password Boss browser extension. This plugin is similar to 1Password's regarding its features. For example, there's a fantastic password generator that allows you to control capitalization and number, symbol, letter and character count.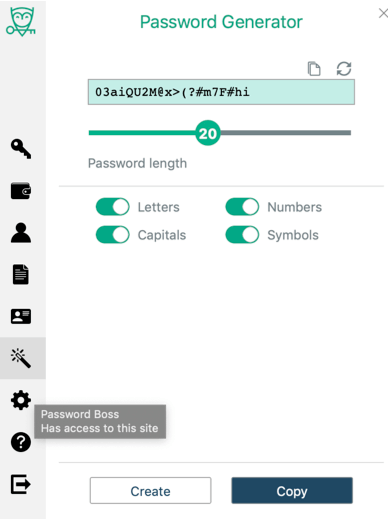 Moreover, the autofill feature works just as well as the generator. When logging into a new space, the software will ask if you want to save your new information and will even prompt you to generate a new password there as well. It's very intuitive, and easy even for those who've never used a password manager before.
Then, you have the autofill. When logging into a new space, click within the form and the app will list all of your saved accounts to log in within. After choosing one, Password Boss will log you in safely and you'll be set!
You can also organize all of your passwords via custom tags—a useful feature pulled from RoboForm. Other sorting includes a favorites menu, alphabetical order, date created and more. There's a grid or a list presentation format as well.
Finally, we have the Password Boss mobile app. The application is exactly the same as it is on the desktop. There aren't any features unique to the mobile platform, but it's still a fantastically well-rounded piece of software that makes it easy for you to store information and quickly log in to different spaces online. That said, the application prevents screenshots, so I can't show you how good it looks. This is a great security feature in the long run, however.
Password Boss Security
All of the information stored in the Password Boss software is kept safe via the industry standard AES-256 encryption combined with PBKDF2. Basically this just means it's much harder for an attacker to break in and figure out your master password. Both this key and your master password are stored on your device via a zero knowledge system.
Zero knowledge means nobody, not even the team at Password Boss, ever has access to your master password. This is both a good and a bad thing. It's good because your password is at much less risk, but bad because they can never help you recover it if lost.
On top of this is the software's two-factor authentication (2FA) feature. You can enable 2FA with your personal account, or with every device on a business or family account. That, and your stored information is backed up on a secure cloud as well, ensuring you can access the data on any device assuming you have your master password. Anyone without it can never break in.
Also, take note that any and all data transfers are entirely encrypted from start to finish. And you can maintain business roles to say who has control over what within the business plan. These roles are entirely customizable and can be switched up at any time.
Moreover, should you or anyone on your plan lose their device with Password Boss on it, the software has something called a remote delete function. You can turn this on from the app's dashboard on another device, and it'll automatically delete all information within Password Boss if someone tries to access it.
Password Boss Customer Support
Password Boss's customer support leaves much to be desired. Unlike Keeper's variety of options, this software doesn't have a phone number or live chat for communication. Instead, you can only check out the platform's help center or send in a ticket inquiry via their Support page.
I contacted their support team via the ticket page regarding a refund. They got back to me within 24 hours, which is about standard for password manager support teams, I've found. However, one should note that there's only a 30-day money-back guarantee for those who aren't sure about the software. Once that period is up, there's no getting your money back.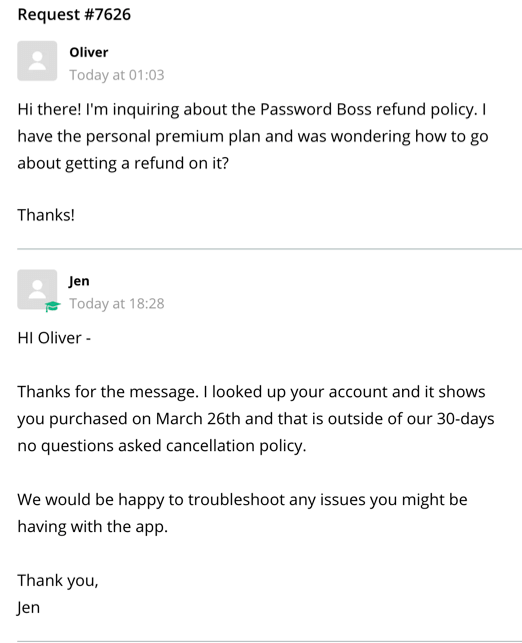 Fortunately, the help center has all sorts of help videos, articles and even a quick start guide to help with your first experience. Browsing through the guide will show you how to establish emergency access, share items, set up 2FA and more. That and as a bonus, there's even a guide on how to build and manage a team within the Password Boss application.
The help center is full of key information, and even those with limited experience using password managers can learn most of what they need to know there.